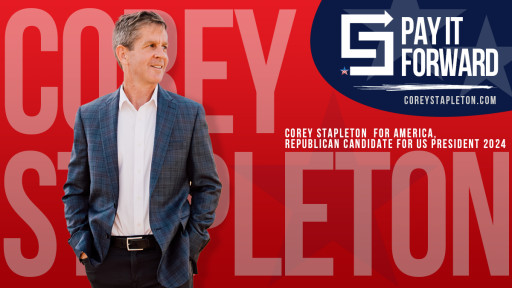 Former Montana Secretary of State to hold town hall May 4 at University of New Hampshire
DURHAM, N.H., April 28, 2023 (Newswire.com) - Republican Presidential candidate Corey Stapleton will visit Coos and Grafton counties next week, followed by a town hall meeting at the University of New Hampshire (Durham) at 1 p.m. on Thursday, May 4, in the Memorial Union building. Members of the public are welcome to attend.
This is Stapleton's third visit to the "First in the Nation" presidential primary state. The country music artist and former Montana Secretary of State says New Hampshire feels like "home."
"Of all the places I've campaigned, the people of New Hampshire are most like the free-spirited, freedom-loving people where I come from," said Stapleton. "Voters are thoughtful, and not quick to be influenced by spin or deceit. I like that."
Corey Stapleton was the first Republican in the 2024 election cycle to announce his candidacy for U.S. President.
In January, he visited several cities in war-torn Ukraine in support of continued U.S. military aid against the Russian invasion. Stapleton, a former naval officer and U.S. Naval Academy graduate, says there is no place for American weakness or indifference with regards to the Russian-Ukraine war.
"We achieve peace through allied strength, not American isolationism," said Stapleton.
Contact Information:
Lorna Kuney
Communications
[email protected]
(406)442-6633
Original Source:
U.S. Presidential Candidate Corey Stapleton Announces Third Visit to New Hampshire