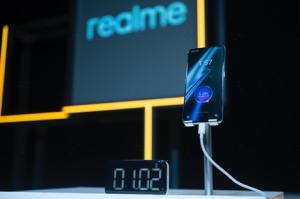 240W: World's Highest Charging Standard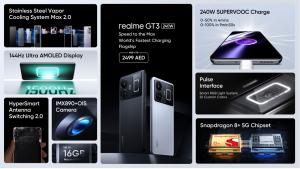 Maximized Charging Safety and Longest Worry-free Battery Life
DUBAI, UAE, June 14, 2023/EINPresswire.com/ — realme, the world's fastest-growing smartphone brand, has just released realme GT3 in UAE – its next-generation speed flagship with the world's fastest charging power: 240W. Accordingly, realme GT3 offers a holistic mobile experience with 16+1TB storage at a decent price under AED 2,500. The GT3 will be available on NOON.
240W: World's Highest Charging Standard:
In terms of user experience, 240W is the ultimate answer to battery anxiety. It accelerates smartphone charging to minutes and even seconds. Using 240W charging power, it only takes 80 seconds to charge the realme GT3 to 20% capacity. It only takes 9 minutes and 30 seconds to fully charge the device's 4600mAh battery.
Full-fledged Battery and Charging Innovation:
As the first brand in the industry to mass produce 240W fast charging, realme has achieved a full-fledged innovation in everything from charging safety to battery longevity and to accessory compatibility.
Maximized Charging Safety and Longest Worry-free Battery Life:
It is equipped with a 6580mm2-large VC liquid cooling system that covers 61.5% of the battery and ensures efficient heat dissipation to ensure maximum charging safety. The realme GT3 has an 80% lifespan with 240W enabled, which is more than double the industry standard.
Pulse Interface Design: Re-imagine Smartphone Interaction:
Aside from the incredible 240W, the realme GT3 pushes smartphone design to new heights. The realme GT3 has a translucent window next to the camera module. Users will find a polished chipset deco, an NFC chipset, and the innovative Pulse Interface System with a C-shaped RGB lighting ring inside.
Taking inspiration from gaming handsets, realme GT3's Pulse Interface Design displays different light effects depending on the phone's status.

The users can be always alerted when the phone is 20% charged as it will display a red breathing light effect and when it is charged to 21%-100%, it will display a purple breathing light effect; and when it is fully charged, the purple light will always be on. When there are incoming calls, the light flashes quickly. While receiving notifications, the lighting system will display a white color; for a 10-second countdown before taking photos, the phone will display a blue, white, and orange color beaming.
144Hz Ultra AMOLED Display:
The GT3 has a 6.7-inch 144Hz 1.5K flat AMOLED screen with 2160Hz ultra-high frequency PWM dimming, up to 1400 nits' impressive brightness, and a 2.31mm ultra-narrow chin.
This gives the users the chance to experience ultra-smooth video, web browsing, and social media as the device is provided 7 levels of smart refresh rate for different usage situations to extend battery endurance.
The realme GT3 comes in a special storage variant 16GB+1TB; 16GB RAM to help in multitasking and able to run 45 apps active in the background also to ensure faster and more efficient storage speed while shooting 4K or heavy gaming while 1TB to offer for the users a big hardware drive to let the user download many applications and keep all the photos and videos; GT3 is available in Pulse White and Booster Black two-color options, it is powered by a Snapdragon processor. The operating system runs on Android 13 and realme UI 4.0.
There are three rear cameras; a 50MP main camera supported by Sony IMX890 OIS Camera which delivers to the user flagship-level photo quality, an 8MP ultrawide, and a 2MP macro. The sensors include under the display, optical fingerprint, accelerometer, gyro, proximity, and compass.
About realme:

realme is a global emerging consumer technology company disrupting the smartphone and AIoT market by making cutting-edge technologies more accessible. It provides a range of smartphones and lifestyle technology devices with premium specs, quality, and trend-setting designs to young consumers at affordable prices.
Established by Sky Li in 2018 and driven by its "Dare to Leap" spirit, realme has become one of the top 5 smartphone players in 30 markets globally in just three years, and realme has entered 61 markets worldwide, including China and Southeast Asia, South Asia, Europe, the Middle East, Latin America, and Africa, and has a global user base of over 160 million.
For more information, please visit www.realme.com.
Eyad Zakee
Medai4U for Marketing and PR
+971 52 790 2626
[email protected]
Visit us on social media:
Facebook


Article originally published on www.einpresswire.com as The killer flagship with premium features and 16GB+1TB