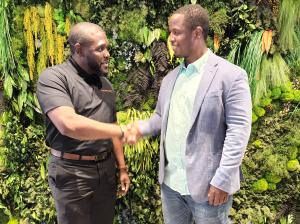 Yusuf Henriques & Benjamin Harvey, Ph.D. at Inno on Fire Awards
Utilizing AI technology to expedite the process of gene variant identification to drug discovery.
This strategic partnership strengthens our value proposition to our customers in government and pharmaceutical industries."
— Yusuf Henriques, CEO and Founder of IndyGeneUS AI
WASHINGTON, DC, UNITED STATES, June 14, 2023/EINPresswire.com/ — IndyGeneUS powers its Precision Health Discovery (PHD) platform by teaming up with tech start-up AI Squared for low-code data integration, intelligent automation, and data-driven insights to accelerate innovation. This collaboration will create short and long-term commercialization opportunities with clients and partners by powering drug development byway of advanced artificial intelligence.
"This strategic partnership strengthens our value proposition to our customers in government and pharmaceutical industries," said Yusuf Henriques, Founder and CEO of IndyGeneUS. "As a Merck Digital Sciences Studio (MDSS) portfolio company, we are committed to increasing the diversity in biobanks used for clinical trials, sequencing genomic data, and utilizing AI/ML to identify unique gene variants in underrepresented populations."
The IndyGeneUS (PHD) Platform makes decentralized clinical trials (DCT) research possible through its use of federated data architecture. The possibilities of what will be captured from mining a global genomic data repository, while also rapidly identifying novel gene variants in multi-omic data, will be revolutionary.
"AI Squared is excited about this innovative collaboration with IndyGeneUS on its Precision Health Discovery (PHD) Platform," said Benjamin Harvey, Ph.D., CEO and founder of AI Squared. "It will enable ground-breaking insights to yield expedited drug discovery, benefiting the health of diverse populations."
While this is the first official alliance between the two trailblazing start-ups, it isn't the first time they've shared praise for their innovative solutions. AI Squared and IndyGeneUS have been featured as Washington Business Journal DC Inno's Fire Award nominees (2022), and Technical.ly's Top 20 DC Companies to Keep Your Eye on 2023.
AI Squared has also successfully secured contracts with such distinguished organizations as Johns Hopkins Applied Physics Lab, National Security Agency, US Department of Defense, and a Fortune 100 financial services organization while receiving seed funding from NEA and Ridgeline Ventures.
"Genotype-phenotype correlation is only the beginning. The PHD platform will layer multi-omic and environmental data to explore the role of gene-environment interactions and antagonistic pleiotropy in health disparities," said Bradford Wilson, PhD, Co-Founder and CSO of IndyGeneUS.
The ability to aggregate large genomic datasets along with an individual's electronic health record (EHR) data to find unique genetic variants will be a game-changer for the healthcare industry. To stay abreast of the advancements that IndyGeneUS is making in this space visit: indygeneus.ai. For media inquiries contact Angel Livas at [email protected].
###
IndyGeneUS AI

IndyGeneUS AI, a Black and Veteran-owned artificial intelligence-powered digital health company accelerating the discovery, development, and manufacturing of advanced therapeutics to address health disparities impacting African diaspora populations globally.
About AI Squared

Founded in 2021, AI Squared is a low-code AI integration platform with a mission to empower companies to make any existing applications intelligent by simplifying and accelerating the integration of AI into apps, ultimately increasing AI adoption. The platform integrates intelligent automation, data-driven insights, and guided recommendations to create an intelligent application that can deliver a more personalized interface, improve productivity, and support decision-making. For more information visit www.squared.ai.
Angel Livas
IndyGeneUS AI
+1 202-930-3262
email us here
Visit us on social media:
Twitter
LinkedIn


Article originally published on www.einpresswire.com as Tech Start-ups IndyGeneUS and AI Squared Forge Partnership to Drive Health Innovation Through Advanced AI Technologies