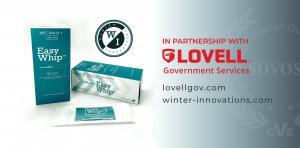 EasyWhip® will make suturing tendons and other tissues so much easier for surgeons who don't want to compromise the security of their soft tissue constructs for time constraints."
— Chris Lovell, CEO, Lovell Government Services
KNOXVILLE, TN, UNITED STATES, April 27, 2023/EINPresswire.com/ — Lovell® Government Services and Winter Innovations announced today that they have partnered to list their flagship product, the EasyWhip® suture needle, on government contract vehicles. Lovell Government Services will serve as Winter Innovations' Service-Disabled Veteran-Owned Small Business (SDVOSB) vendor to federal healthcare systems such as the Veterans Health Administration (VHA), the Military Health System (MHS), and Indian Health Services (IHS).
Winter Innovations' EasyWhip® suture needle provides a simple solution for stitching in ligament and tendon repair or reconstruction procedures. The novel two-part design makes the stitching process easier, faster, and more consistent, and it allows for flexibility not possible with conventional suturing needles. With EasyWhip®, surgeons can choose between the new proprietary WhipLock™ stitch, a standard whip stitch, or switch between methods to create hybrid patterns.
As Winter Innovations' SDVOSB Vendor, Lovell is excited to bring this product to federal healthcare providers. Government Customers can now find EasyWhip® on the Department of Defense's Distribution and Pricing Agreement (DAPA) and the Department of Veterans Affairs' Federal Supply Schedule (FSS). Customers will soon find it on the Defense Logistics Agency's ECAT system. Listing products on contract vehicles with Lovell streamlines the acquisition process while helping government agencies meet their SDVOSB procurement goals.
"EasyWhip® will make suturing tendons and other tissues so much easier for surgeons who don't want to compromise the security of their soft tissue constructs for time constraints," Chris Lovell, USMC Major (Ret.), Chief Executive Officer, Lovell Government Services.
"In the last year, we have made tremendous progress in making EasyWhip® available across the country. The natural next step was to partner with Lovell to bring our solution to veterans and active military personnel across the country. I'm excited for this partnership because it provides VA and DOD facilities efficient access to EasyWhip® and builds on the longstanding relationships of Lovell with purchasing departments at these facilities." Lia Winter, MS, MBA, CEO, Winter Innovations
About Winter Innovations.
Winter Innovations was founded in 2019 to develop simple tools for overlooked areas in surgery. Winter Innovations' mission is to create products that improve patient outcomes in sports medicine. The company's flagship product, EasyWhip®, is an award-winning and patented surgical needle designed to simplify and standardize stitching in ligament and tendon surgeries.
Learn more at www.winter-innovations.com
About Lovell® Government Services
Lovell Government Services is a trusted government vendor since 2013 with a proven track record of successfully introducing suppliers to the government market. Lovell is a two-time Inc. 5000 honoree and leader in the federal space. They partner with medical and pharmaceutical companies looking to better serve Veteran and military patient populations, increase their federal revenue stream, and win government contracts.
Learn more at www.lovellgov.com
Mia McCann
Lovell Government Services
+1 850-684-1867
email us here
Visit us on social media:
Facebook
Twitter
LinkedIn


Article originally published on www.einpresswire.com as Winter Innovations Partners with SDVOSB, Lovell, to Offer New Suture System on Government Contracts