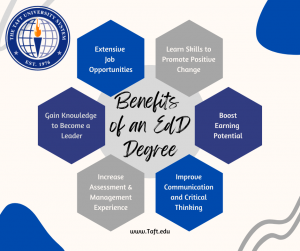 Benefits of an EdD Degree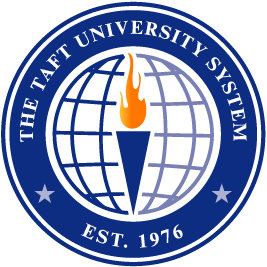 The Taft University System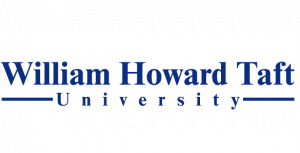 William Howard Taft University
William Howard Taft University's Doctor of Education Program Prepares Educators, Administrators, and Consultants for Professional Growth
LAKEWOOD, CO, UNITED STATES, June 16, 2023/EINPresswire.com/ — The demand for educational leaders is increasing as schools and universities are looking for individuals who can help them navigate the ever-changing educational landscape. Educational leaders are expected to have a deep understanding of the current trends and technologies, as well as the ability to develop innovative strategies for teaching and learning. Advanced degrees in education provide educators with the knowledge and skills to stay ahead of the curve. A Doctor of Education (EdD) can prepare graduates to be a successful leader in a variety of roles, from administrators to faculty members/teachers.
William Howard Taft University offers a 100% online EdD degree program emphasizing coursework in educational leadership and management in a variety of educational and public service settings. The program provides students with the opportunity to gain a deeper understanding of the legal and ethical issues related to educational leadership and management. Students will also gain an understanding of the importance of diversity in educational settings and the role of educational psychology in the development of effective educational programs. Students can select from three academic concentrations: Leadership & Administration, Educational Technology, and Charter School Administration, in addition to two formats of study.
Taft provides students the flexibility to build their studies and coursework around their existing schedule; students can gain the same level of education as they would in a traditional program, but without the need to take time away from their job or family commitments. The online format allows students to access course materials at any time, from any location, making it easier to fit their studies into their existing lifestyle. The degree can be completed in as little as 27 months, and since it is offered in an online format, the cost of tuition is more affordable than traditional doctorate programs at only $360 per credit.
Taft is proud to offer a program that is both convenient and affordable, while still providing students with a quality education. The curriculum is comprehensive and rigorous, and students are taught by experienced faculty members who are experts in their field. William Howard Taft University is committed to providing students with the highest quality education and the EdD program is a testament to that commitment.
Enrolling provides the perfect opportunity for passionate educators and educational administrators to make an impact in the field of education. To request more information, click HERE. Read more about Taft University, their various degree programs, and application procedures at www.Taft.edu.
Annie Cruz
The Taft University System
+1 714-850-4800
email us here
Visit us on social media:
Facebook
Instagram
YouTube


Article originally published on www.einpresswire.com as As the Educational Landscape Continues to Evolve, the Need for Leaders in the Field is Quickly Growing