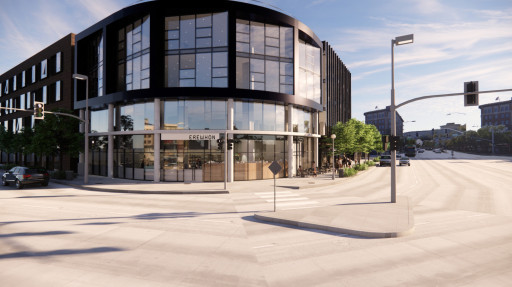 Leading Organic Grocer Opens 9th Location in Culver City
CULVER CITY, Calif., March 17, 2023 (Newswire.com) - Erewhon's impressive ninth store will open its doors at 9am on Wednesday, March 22, 2023. Located at 9300 Culver Boulevard within the 1.16-acre Culver Steps Project. Sitting adjacent to The Culver Studios and The Culver Hotel, Erewhon's newest location is in the heart of the eclectic and charming downtown Culver City community.
Erewhon was founded on the belief that good nutrition is the key to a more vibrant, healthy and bountiful lifestyle. The organic grocer holds both its Certified B Corp and Certified Organic Retailer accreditations with high esteem.
As innovators in the retail grocery industry, Erewhon has become the impetus for many of its shoppers to make more informed, conscious decisions while shopping. At Erewhon, shoppers entrust in the brand, because of its rigorous quality standards, not only for the products they make and carry, but for its customer service as well.
Erewhon has remained an independent, family-owned business for over fifty years and has distinguished itself with unique brand positioning and its scrupulous commitment to supporting sustainability, local farmers, biodynamic practices and regenerative farming. The Organic Cafe serving fresh, daily prepared foods out of an open kitchen, its curated health, beauty and Nutrition Department, and its famous Organic Tonic Bar, all contribute to Erewhon's unique brand positioning and holistic shopping experience.
"We are excited and glad to be part of Culver City," said Tony Antoci, CEO of Erewhon. "We are proud to serve this community and to extend our ethos as a company to a city that is innovative, environmentally conscious and growing."
Culver City not only houses a plethora of film and television studios, but now includes the ever expanding LA Tech space, including Amazon Studios' current residency within The Culver Steps.
With Retail Design Collaborative (RDC) at the helm of this project, Erewhon Culver City boasts the grocer's second largest footprint. Every detail was tailored to make this location feel bespoke to its community; custom designed lighting illuminates the open spaces and custom-made fireclay enamel tiles adorn the walls and pillars. Art Deco inspired decorative aluminum canopies adds structural beautification and hangs above the checkout and Tonic Bar. Shoppers can look forward to a large indoor seating area, the largest of all 9 locations, and the convenience of dedicated direct access elevators to the parking area.
Erewhon will continue to broaden its Southern California footprint, with its 10th location on the horizon, opening later this year in Pasadena.
ABOUT EREWHON:
Erewhon is an independent, family-owned Certified Organic Retailer and Certified B Corp with 9 store locations throughout Southern California. Since 1968, Erewhon has been committed to providing organic foods, products to the communities they serve and is recognized for its uncompromising quality standards and customer service. Included in this commitment is keeping abreast of market innovations, supporting local farmers and brands, and protecting the environment. For more information, visit erewhonmarket.com.
Contact Information:
Demi Marie Alhaik
Vice President of Brand Management
[email protected]
Original Source:
Erewhon Celebrates Its Continued Expansion in Southern California