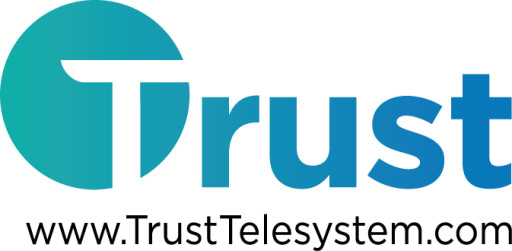 NORTHWOOD, Ohio, July 31, 2023 (Newswire.com) - Telesystem, a leading provider of nationwide managed technology solutions, has announced a refresh of their brand identity that includes the rollout of an alternative logo, new web and email domains, and bundled service packages designed to simplify the value proposition and buying process for prospective customers. The moves serve to emphasize the organization's value proposition and associated tagline - IT's About Trust - that was unveiled in August of 2022.
Telesystem's 'IT's About Trust' tagline highlights the importance of trust in I.T. solutions between a small enterprise to mid-market organization and its technology supplier. In the time since the campaign's rollout last year, Telesystem has been emphasizing the importance of selecting a technology provider based on the potential to build trusted relationships with key team members. That message has been amplified in each of the marketing vehicles that Telesystem uses, including but not limited to television, radio, print, digital, social media, collateral, and sales presentation materials. As part of the latest campaign update, the Telesystem website will receive a new URL. The previous domain, Telesystem.us, will be replaced by TrustTelesystem.com. Industry-specific pages will also have unique and easily remembered URLs based on the centerpiece of trust (HealthcareTrustsTelesystem.com, FinanceTrustsTelesystem.com, etc.). Additionally, employees will receive updated email addresses @TrustTelesystem.com; the previous domains and email addresses will redirect to the new format.
Telesystem has also unveiled a new logo variation designed to impactfully represent its value proposition in the marketplace. The design features the familiar Telesystem T in the existing color scheme, but now spells out the word 'Trust'. This logo will be utilized in sales and marketing collateral, various means of advertising, and will be prominently featured in new bundled service offerings that highlight the organization's cybersecurity solution set.
"Trust is something that we want our employees to live and breathe every single day in such a way that our customers feel our commitment to them in every conversation across any department in the organization," said Telesystem Chief Revenue Officer Bruce Wirt. "Trust is not just a brand identity, it's how we hold ourselves accountable to ourselves, each other, and our customer base," added Wirt. "We want to bring an experience to the technology marketplace that is unmatched by any of our competition. There are many organizations in the telecommunications and technology industry that bring innovative products and services to the marketplace; we are focused on taking those best-in-class services and layering on unparalleled service and support that allows our customers to focus on their business, not worrying about the technology that allows it to operate."
The bundled solutions take the organization's three most popular cybersecurity offerings and combine them together at a discounted rate, taking the complexity out of the buying process for an organization that is looking to fortify their connected workplace. Beyond cybersecurity, organizations can also easily bundle communication, managed security, SD-WAN, and other advanced networking services at a deep discount from standard retail pricing. This change is designed to simplify the buying process, especially for businesses that are freshly evaluating their cybersecurity strategy.
Telesystem was founded in 1994 in Toledo, OH, and focuses on providing cybersecurity, networking, and communication solutions to SME to mid-market businesses in the United States. The company's sales strategy includes a nationwide indirect agent channel, a consultative account growth team, and a wholesale offering for target products and services.
Press inquiries for Telesystem should be directed to Morgan Hull - Marketing Generalist: [email protected]
Contact Information:
Morgan Hull
Marketing Generalist
[email protected]
Original Source:
Telesystem to Debut New Logo and Web Domain as Part of Brand 'Refresh' to Emphasize Value Proposition