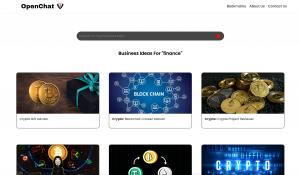 OpenChat Search Page
Amid growing concerns that AI might replace human jobs, OpenChat demonstrates how AI can enhance, not replace, your work and career.
AI shouldn't be seen as a threat to the global workforce, but rather as an enabler"
— Habib Kamara
NEW YORK, NY, UNITED STATES, August 22, 2023/EINPresswire.com/ — OpenChat, a trailblazing startup, is poised to revolutionize the perception and utilization of Artificial Intelligence (AI) in the workplace. Amidst rising concerns over AI-driven automation, especially in knowledge-based jobs, OpenChat emerges as a source of empowerment for workers, dispelling prevalent misconceptions around generative AI.
The tech world has been abuzz with debates on AI's potential to replace human roles, a perspective often stemming from a lack of understanding of generative AI's foundational mechanics. OpenChat tackles this narrative head-on, launching a platform that provides workers with thousands of ways of incorporating generative AI and ChatGPT into their careers. Instead of perceiving AI as a job replacement, OpenChat highlights its potential as a powerful ally, enhancing productivity, creativity, and overall job satisfaction.
"AI shouldn't be seen as a threat to the global workforce, but rather as an enabler," says Habib Kamara, Founder OpenChat. "Our platform offers a comprehensive repository of business topics and use-cases across a multitude of industries, such as Finance, Crypto, Marketing, Software Development, Journalism, and Real Estate. Our goal is to showcase how professionals in the United States and around the world can harness the power of ChatGPT and generative AI to bolster their careers, optimize their work processes, and discover untapped opportunities."
With its official launch, OpenChat invites professionals, industry leaders, and curious minds to explore its vast resources. The platform not only aims to educate but also to foster a community where shared experiences can lead to innovative AI-driven solutions tailored to diverse business needs.
For more information, you can visit openchatjobs.com

Habib Kamara
OpenChat
+1 8452880118
[email protected]
Visit us on social media:
Twitter


Article originally published on www.einpresswire.com as OpenChat Launches Free Platform To Incorporate ChatGPT and AI Into Your Career