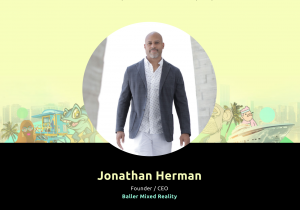 Jonathan Herman / Miami NFT Week
Baller / American Metaverse Awards Nominations
We're excited to have Jonathan Herman as a speaker for Miami NFT Week… a top CEO in the U.S. and leading two technology ventures in blockchain innovation."
— Twitter.com/MiamiNFTWeek
MIAMI BEACH, FL, UNITED STATES, March 14, 2023 /EINPresswire.com/ — Jonathan Herman, founder of Strong Interactive and subsidiary brands, will participate in two major upcoming Web 3 events:
WEDNESDAY, MARCH 29TH & 30TH: Jonathan will present Baller Mixed Reality at the dinner showcase of the American Metaverse Awards as a finalist in four award categories – "Most-Exciting Startup Company"; "Top XR/AR/VR Firm"; "Top Sports Brand Initiative"; "Most Innovative NFT Project". The Summit & Awards are focused on actionable business opportunities in the Metaverse/Web 3, connecting companies and early adopters with a unique focus on the American ecosystem – More at https://www.americanmetaverseawards.com
SATURDAY, APRIL 1ST: Jonathan will share his insights on the panel, "Sports & The Metaverse: Mixed Reality Experiences for Fans & Collectors" of Miami NFT Week. Other speakers will include Anthony Di Iorio (Decentral), Baron Davis (NBA Legend), Laura Rodriguez (Bored Ape Yacht Club), 19 Keys (BWO), Anthony Scaramucci (SkyBridge Capital), Metta World Peace (NBA Legend), Miami Mayor Francis Suarez, and more. Miami NFT Week features leading experts in Blockchain, NFTs and DeFi technologies with workshops, panels, pitch competitions, creative installations, immersive art, performances and more – More at https://miaminftweek.com
Photo by Memo Rodriguez, http://Fynk.Pro
———————————————
ABOUT JONATHAN HERMAN [https://www.AllAmericanSpeakers.com/speakers/452247/Jonathan-Herman] – Crunchbase ranks Jonathan Herman among the Top CEOs & Founders in the United States. Jonathan was recently recognized by CEO Monthly among their "2022 CEOs of the Year", and is available for public and private speaking engagements through All-American Speakers.
ABOUT STRONG INTERACTIVE [https://StrongInteractive.io] – Strong Interactive is the parent company of Baller Mixed Reality, Bocazon, and burgeoning Web 3 brands such as Mast3rwork and MetaDine. These ventures have earned top rankings by Crunchbase in the following categories:
> Globally – #1 Web 3 / Semantic Web Company (Baller); #1 Augmented Reality Startup (Baller); #1 Collectibles Company (Baller)

> United States – #1 3D Technology Company (Baller); #2 Sports Startup (Baller); #2 Digital Entertainment Company (Baller); #2 NFT Company (Baller)

> Latin America – #1 E-Commerce Platform (Bocazon); #1 Blockchain Company (Bocazon); #2 Logistics Company (Bocazon)
Bocazon was voted "2021 Startup of the Year" in Miami Beach (by Hackernoon) and Baller Mixed Reality was named "Mixed Reality Innovator of the Year" 2022 / 2023 (by Corporate LiveWire) and "Most Pioneering NFT Collectibles Company of 2022" (by Wealth & Finance Magazine). Strong Interactive also provides custom B2B Solutions for companies seeking to position their brands ahead of the Web 3 curve by utilizing emerging technologies.
Contact: [email protected] | (888) 840-1118

Crunchbase: https://www.crunchbase.com/organization/strong-interactive
MEDIA CONTACT: Sean Creighton at 845-893-6109 or [email protected]
Team Interactive
Strong Interactive
+1 888-840-1118
email us here
Visit us on social media:
Facebook
Twitter
LinkedIn
Instagram


Article originally published on www.einpresswire.com as Jonathan Herman Featured at Two Major Upcoming Web 3 Events