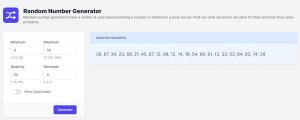 Calculator.io, a leading online platform offering a vast range of calculation tools, has recently launched a powerful Random Number Generator.
LAS VEGAS, NEVADA, USA, April 28, 2023/EINPresswire.com/ — Calculator.io has unveiled a Random Number Generator to cater to various mathematics, programming, and gaming needs. Designed for professionals and individuals, this innovative tool is set to bring randomness into actions or decisions, making it an invaluable resource for many applications.
The Random Number Generator (https://www.calculator.io/random-number-generator/) offers an easy-to-use interface, allowing users to generate random numbers within a specified range. With customization options, such as generating multiple numbers at once and including or excluding duplicates, this versatile tool is adaptable to various user requirements. Accessible from any device with an internet connection, the Random Number Generator offers a seamless user experience.
The generator can be utilized in mathematics and programming for tasks such as creating random data sets, testing algorithms, and simulating real-world scenarios. Game developers and enthusiasts can use the tool to create unpredictable gameplay elements, enhancing the gaming experience. The Random Number Generator can also be employed in everyday situations, such as deciding on a restaurant, selecting a workout routine, or even choosing a movie to watch.
Calculator.io is a reputable online platform that offers an extensive selection of calculation tools to assist users in making well-informed decisions in various areas of their lives. The company continuously strives to develop innovative tools like the Random Number Generator to better serve its diverse user base. With a wide range of calculators and a steadfast commitment to accuracy and user satisfaction, Calculator.io is the preferred resource for individuals seeking reliable and user-friendly online calculation solutions.
The launch of the Random Number Generator highlights Calculator.io's dedication to innovation and excellence as the platform continues to expand its portfolio of cutting-edge calculation tools. As the Random Number Generator gains traction, Calculator.io is poised to make a meaningful impact on users worldwide, further solidifying its position as a trusted provider of online calculation solutions.
Jane Smith
CALCULATOR LLC
+1 323-486-2636
email us here
Visit us on social media:
Facebook
Twitter
YouTube


Article originally published on www.einpresswire.com as Introducing a Versatile Random Number Generator for Diverse Applications