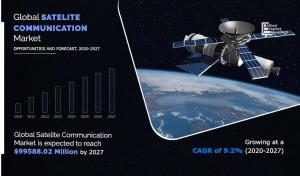 Satellite Communication Market by Application, Component, and End-Use Industry : Global Opportunity Analysis and Industry Forecast, 2020-2027
PORTLAND, OR, UNITED STATES, October 9, 2023 /EINPresswire.com/ — Artificial or man-made satellites are positioned in orbit around the Earth or other celestial bodies to study and forecast phenomena within the solar system and the broader universe. Furthermore, these satellites serve various communication purposes, including the transmission of television signals, phone calls, global positioning technology, military operations, and more. Satellite communication involves the emission of radio waves from satellites, with information being received and processed by antennas and transponders situated at different terrestrial locations.
Space agencies across the world are boosting the number of satellites launches to address the limitations of conventional signal communication systems, particularly the constraints posed by maximum distance signal transmission. Satellites function as intermediaries, relaying digital and analog signals to transmit voice, video, and data across multiple locations worldwide.
𝐑𝐞𝐪𝐮𝐞𝐬𝐭 𝐒𝐚𝐦𝐩𝐥𝐞 𝐏𝐚𝐠𝐞𝐬 – https://www.alliedmarketresearch.com/request-sample/10884
Market dynamics:
A report published by Allied Market Research on the global satellite communication market indicates that the industry is estimated to experience notable growth throughout the forecast timeframe. The rise in use of Internet of Things (IoT0 and autonomous systems, notable surge in the adoption of SATCOM (Satellite Communication) equipment in online streaming services, as well as in radio and TV broadcast industries, and growing demand for military and defense satellite communication solutions fuel the growth of the global satellite communication system market.
However, Interference in satellite data transmission and Cybersecurity threats to satellite communication industry restrain the market growth to some extent. Nevertheless, deployment of 5G network through satellites and technological advancements in satellite missions are expected to offer remunerative growth opportunities in the upcoming years.
Top trends in the satellite communication market:
The increasing demand for satellite-enabled Internet of Things (IoT) is primarily driven by the comprehensive coverage offered by satellites, surpassing the limitations of terrestrial infrastructure. Investments from both governments and the private sector in satellite technology are propelling advancements in satellite based IoT. In the commercial sector, IoT sensors and devices are being utilized to enable precise and real-time asset tracking, monitoring, and remote surveillance on a global scale through satellite connectivity.
The substantial amounts of data gathered by satellites present challenges in terms of data management, analysis, and efficient resource utilization. Machine learning (ML) and artificial intelligence (AI) play a pivotal role in processing satellite data derived from various sources such as earth observation (EO), global navigation satellite systems (GNSS), and remote sensing. AI-driven data analysis in cloud-based platforms is paving the way for Ground-Station-as-a-Service solutions. Ground stations also employ AI for ground-based Space Situational Awareness (SSA) to control satellites, making course corrections and optimizing resource usage. Furthermore, AI is employed in space for real-time orbit prediction and satellite tracking, contributing to improved space traffic management.
𝐏𝐫𝐨𝐜𝐮𝐫𝐞 𝐂𝐨𝐦𝐩𝐥𝐞𝐭𝐞 𝐑𝐞𝐬𝐞𝐚𝐫𝐜𝐡 𝐑𝐞𝐩𝐨𝐫𝐭- https://www.alliedmarketresearch.com/request-sample/10884
Top market players profiled in the report:
Viasat, Inc.
SKY Perfect JSAT Holdings Inc.
L3Harris Technologies, Inc.
Gilat Satellite Networks Ltd.
EchoStar Corporation
Al Yah Satellite Communication Company PJSC (Yahsat)
Telesat Canada
SES S.A.
Inmarsat Global Limited
General Dynamics Corporation
Cobham Ltd
𝐈𝐧𝐪𝐮𝐢𝐫𝐲 𝐁𝐞𝐟𝐨𝐫𝐞 𝐁𝐮𝐲𝐢𝐧𝐠- https://www.alliedmarketresearch.com/purchase-enquiry/10884
These frontrunners have implemented a wide array of strategies, which encompass introducing new products, participating in mergers and acquisitions, establishing joint ventures and partnerships, extending their operational reach, cultivating collaborations, and adopting various other tactics. The overarching goal of these efforts is to gain a competitive advantage in the global market.
𝐒𝐢𝐦𝐢𝐥𝐚𝐫 𝐑𝐞𝐩𝐨𝐫𝐭𝐬 𝐖𝐞 𝐇𝐚𝐯𝐞 𝐎𝐧 𝐬𝐩𝐚𝐜𝐞 𝐈𝐧𝐝𝐮𝐬𝐭𝐫𝐲 :
Satellite Services Market : https://www.alliedmarketresearch.com/satellite-services-market
Navigation Satellite Systems Market : https://www.alliedmarketresearch.com/navigation-satellite-market-A10439
Satellite Bus Market : https://www.alliedmarketresearch.com/satellite-bus-market-A07764
David Correa
Allied Market Research
+1 800-792-5285
email us here
Visit us on social media:
Facebook
Twitter
LinkedIn


Article originally published on www.einpresswire.com as Component, Application and End-Use Industry, Growth Analysis By 2027