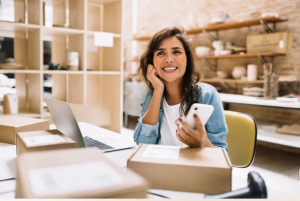 We are beyond thrilled to launch this new USPS companion offering. Not only are we providing label generation in conjunction with all risk insurance coverage;"
— Benjamin Meskin, President
LOS ANGELES, CALIFONIA, UNITED STATES, September 15, 2023/EINPresswire.com/ — Cabrella, a leading name in innovative shipping & insurance software solutions, has joined forces with the United States Postal Service (USPS), marking a pivotal moment for businesses shipping higher-valued commodities. As the only USPS-approved label software provider with a specific focus on risk management, risk mitigation, and insurance, Cabrella is set to redefine the landscape of shipping security. This collaboration brings together a comprehensive insurance program to USPS business customers, solving a significant pain point for any customer that needs access to both USPS services & specialized insurance – combined.
"We are beyond thrilled to launch this new USPS companion offering. Not only are we providing label generation in conjunction with all risk insurance coverage; we are also providing advanced risk management solutions and quick claim adjustment periods without the need to call/contact USPS – solving a specific pain point for USPS business shippers. This now becomes the best available product for any USPS business shipper concerned with risk management & insurance for their higher-value inventory" – Benjamin Meskin, President
This collaboration is a game-changer for high-value business shippers, offering an all-encompassing shipping insurance solution that fills the gaps left by declared value options or other disjointed 3rd party insurance options. Small businesses and e-commerce ventures can now confidently ship their valuable items, knowing that Cabrella's specialized insurance covers the unique risks often overlooked by standard policies. This collaboration ensures unparalleled peace of mind, streamlines risk management, and fosters smoother operations.
Cabrella Benefits include:
• Coverage for all commodities including high-value commodities such as jewelry, precious metals, cash in transit, and more.

• Limits of up to $150,000 per parcel

• A Full TMS built with risk management in mind including recommendations on the safest services for any particular transit.

• Proactive tracking, monitoring and alert system

• API Capability including integrations to major shopping carts and marketplaces

• Carrier agnostic paperless claim filing system with adjustment times of 3-7 days
Benefits of the new USPS companion program include access to:
• Highly discounted "Merchant Rates" which are up to 13% below the previous "Commercial Plus Price" pricing

• Better customer service

• Access to USPS Ground Advantage, a new service being offered by USPS

• No minimum volume commitments

• USPS Tracking®

• Free packaging available, which includes flat rate and other options

• Free Package Pickup service

• Free Saturday delivery

• No fuel surcharges

• No residential delivery surcharges

• No additional charge for address correction, forwarding, or returning undeliverable items for certain products

• Convenient package returns solutions
This groundbreaking solution provided by Cabrella translates to tangible benefits that every business owner in the space should eagerly embrace. By tapping into Cabrella's shipping insurance offering, customers gain access to more comprehensive coverage options, tailored to their specific needs. Say goodbye to one-size-fits-all policies. Our seamless integration tools and dedicated support mean hassle-free shipping, allowing you to focus on growth. With Cabrella as your trusted partner, you'll experience enhanced risk mitigation and unparalleled peace of mind, revolutionizing the way view & handle logistics and risk management.
Join our growing community of business owners who value efficiency, reliability, and comprehensive insurance.
Apply for Cabrella membership today!
Benjamin Meskin
Cabrella, LLC
+1 844-422-2735
[email protected]
Article originally published on www.einpresswire.com as Cabrella collaborates with USPS to provide an innovative solution for business shippers