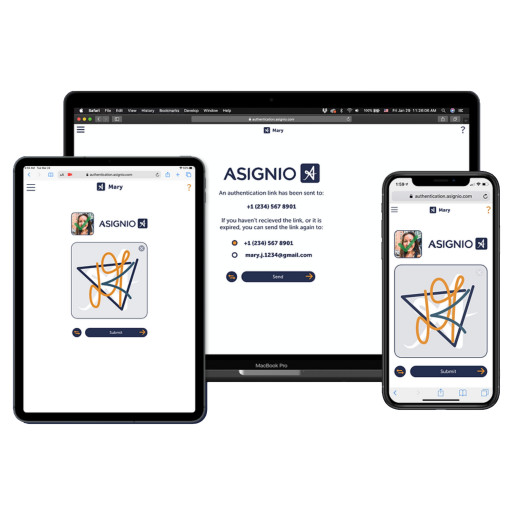 Dual Biometric Platform Is Now Available to Okta Customers
SEATTLE, September 7, 2023 (Newswire.com) - Asignio, the leading dual biometric authentication company, is thrilled to announce that its groundbreaking platform is now available to Okta customers. By harnessing the power of dual handwriting and facial biometrics, Asignio provides a phishing-proof and hacking-proof high-security login solution.
With Asignio, users create a "sign" that is a handwritten set of shapes and/or characters that they can enter on their touch-enabled device. As they enter their sign, facial recognition and handwriting analysis algorithms are used to ensure that the sign is real and authorized. This prevents replay attacks and deepfakes.
"Hackers and fraudsters exploit the people side of the authentication process, knowing that passwords are the weakest link," states Kyle Rutherford, CEO of Asignio. "The Asignio solution, with its unique handwriting and selfie dual biometrics, can't be phished or hacked. We are excited to offer Okta customers a powerful solution that stops hackers and fraudsters from exploiting customers and employees."
The Asignio platform is designed to address onboarding, account access, step-up, account recovery and a variety of other needs for company customers and employees. It is easily added to existing authentication processes through our integration with Okta as well as other top authentication solutions, and through standards-based APIs. Because it works on modern touch-enabled mobile devices, users are automatically ready to use it, and it avoids the costs associated with hardware security keys and systems.
Asignio has the added benefit that users leverage muscle memory to remember it, and, similar to physical, in-person signatures, the same "sign" can be used across multiple sites without the risks experienced by other authentication systems. This innovative approach not only enhances user convenience but also minimizes the risk of forgotten passwords or misplaced tokens or access cards, streamlining the authentication process.
Asignio is a certified Okta integration partner and is available on the Okta marketplace here.
About Asignio:
Asignio is a pioneering dual biometric authentication company based in Washington state. With a mission to deliver highly secure and user-friendly authentication solutions for onboarding, account access, step-up security and account recovery, Asignio's platform utilizes handwriting and facial biometrics to deliver a phishing-proof and hacking-proof login experience. By removing passwords from the equation, Asignio empowers individuals and organizations to leverage a highly secure authentication process without the user experience issues that come from other high-security options, making it easier for people to be less of the security risk for their organization. For more information, visit www.asignio.com.
Contact Information:
David Andrews
Marketing
[email protected]
650-296-8451
Original Source:
Asignio Revolutionizes Authentication With Phishing-Proof, Passwordless Platform