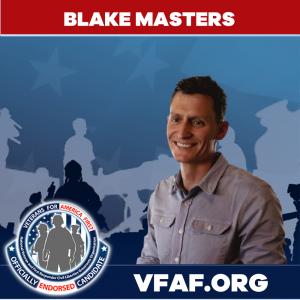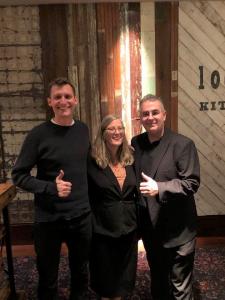 Blake Masters with VFAF President Stan Fitzgerald and VFAF Ambassador Donna Fitzgerald
Veterans for America First AKA Veterans for Trump has announced their endorsement of Blake Masters for Arizona 8th congressional district. Said Stan Fitzgerald
Blake is a Patriot who will implement the America First agenda and secure our borders . Blake understands the economy and will bring his expertise to DC to fix it."
— Stan Fitzgerald VFAF Veterans for Trump grassroots President
PHOENIX, ARIZONA, USA, November 11, 2023 /EINPresswire.com/ — From the press room of L-Strategies – The official press of VFAF Veterans for Trump grassroots national
Blake Masters is an American venture capitalist and Arizona political candidate. Masters co-wrote Zero to One: Notes on Startups, or How to Build the Future with Thiel in 2014, based on notes Masters had taken at Stanford Law School in 2012. He was later chief operating officer of Thiel's investment firm, Thiel Capital, and also president of the Thiel Foundation.
"Blake's primary policy goal is to secure the border which matches our organizational primary goal. Blake understands the economy and will bring his expertise to DC to fix it. Blake endorses Donald J Trump for our 47th president ,and at VFAF he has our full endorsement" said Stan Fitzgerald VFAF President.
For more information visit https://veteransfortrump.us/news/
In other VFAF News :
The Veterans group is focusing on America First politics and is considered to have a powerful primary endorsement : https://fox59.com/business/press-releases/ein-presswire/645012264/the-powerful-primary-endorsement-from-veterans-for-trump-and-veterans-for-america-first/
VFAF Veterans for America First AKA Veterans for Trump was invited as part of the grass roots campaign to Mar-A-Lago in November 2022 for Donald Trump's announcement of his run for 47th president. The former president shared the endorsement of VFAF for his bid on the Truth Social Platform along with the article stating the organization was part of the grassroots campaign collation
https://truthsocial.com/@realDon…/posts/109429493455546669
The Veterans group is partnered with Legacy PAC , a political action committee committed to preserving the Legacy of President Trump and promoting America First candidates. Stan Fitzgerald , Jared Craig , Mark Finchem , Kelli Ward and Martha Boneta Fain are on the Legacy PAC Team.
https://fox59.com/business/press-releases/ein-presswire/643301334/legacy-pac-commences-fundraising-efforts-led-by-mark-finchem-to-help-elect-the-next-generation-of-conservative-leaders/
Stan Fitzgerald
L-Strategies LLC
+1 770-707-6291
email us here
Visit us on social media:
Facebook
Twitter
BLAKE MASTERS for AZ Congress VFAF Veterans for Trump endorsement interview with Stan Fitzgerald


Article originally published on www.einpresswire.com as Blake Masters (AZ08) endorsed by VFAF Veterans for Trump