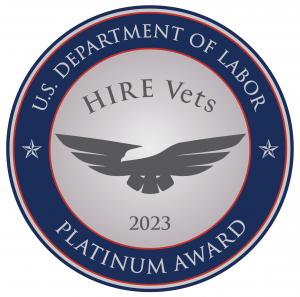 The HIRE Vets Medallion Award is the only federal-level veterans' employment award that recognizes a company or organization's commitment to veteran hiring, retention, and professional development.
Agility Federal's own Diana Dunnigan MD and Brandon Fausti attend Phoenix's Foundation For Blind Children's Night For Sight GALA.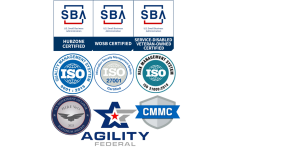 Agility Federal is one of the most credentialed small businesses in the Nation.
11/10/2023 – The US Department of Labor awarded the HIRE VETS Medallion Awards in advance of Veterans Day to Agility Federal LLC.
Agility Federal is proud to provide the financial incentives of Veteran Tuition Assistance and Leadership Mentoring which ensures successful reintegration that ultimately strengthens our Nation."
— Diana Dunnigan MD, CEO Agility Federal LLC
PHOENIX, ARIZONA, USA, November 12, 2023 /EINPresswire.com/ — The US Department of Labor awarded the HIRE VETS Medallion Awards in advance of Veterans Day.
Agility Federal LLC received the US Department of Labor's HIRE VETS Platinum Medallion showing a continued, dedicated, and improved Veterans Hiring and Retention Program. Agility Federal invests in its Veterans employees by providing its Tuition Assistance program called "Learn to Earn" and its Veterans Leadership and Mentorship program called "The Need to Succeed." Both programs are fully funded by Agility Federal's earned revenue in efforts to strengthen the national fabric of US society by supporting Veterans who have served the Nation.
Adding to the excitement, Agility Federal was happily shocked by the good news that all 3 of its teams were awarded entry to bid on the Veterans Administration's (VA) $61B Transformation Twenty-One Total Technology Next Generation Two (T4NG2) Indefinite Delivery/Indefinite Quantity (IDIQ) Information Technology contract. Additionally, Agility Federal expects its team to be awarded entry to bid on the Veterans Health Administration's $23B Integrated Critical Staffing Program (ICSP) IDIQ by the end of the month and the Transportation Security Administration's (TSA) Nationwide Network of Medical Services (NNMS) by end of the year.
November 11, 2023, Veterans Day also marks the second consecutive year that Agility Federal has supported the Foundation for Blind Children located in Phoenix, Arizona. During the Night for Sight Gala, Agility Federal's own CEO Diana Dunnigan, MD and COO Brandon Fausti enjoyed an evening with other longtime supporters of this inspiring organization.
Earlier this month, Agility Federal submitted its first Supplier Performance Risk System (SPRS) score with to the Procurement Integrated Enterprise Environment (PIEE) for the Department of Defense's (DoD) Cybersecurity Maturity Model Certification (CMMC) and will continue to improve its cybersecurity posture towards achieving the DoD's CMMC 2.0 Level 2 certification as well as the Federal Risk and Authorization Management Program's (FedRAMP®) Authority to Operate (ATO) which provides a standardized approach to security authorizations for Cloud Service Offerings.
Ultimately, Agility Federal plans on offering their own DoD approved cybersecurity stack as a commercial solution for consumers and businesses needing to ensure their assets are protected from the growing number of Hackers including State-Sponsored and Terrorist organizations. "When anyone on the planet with a laptop, internet connection, $40 to spend on the Dark Web and free Artificial Intelligence (AI) can create an automated 24/7 spear-phishing campaign capable of assaulting millions of unprotected Americans daily, enough is enough. Agility Federal will provide an affordable and tiered solution to help the American People ensure their assets, privacy, and businesses are protected from cybercriminals and the threat of emptying anyone's bank account in a blink," said Agility Federal's COO/CTO Brandon Fausti.
Later this month, Agility Federal will begin their certification audits towards achieving the International Organization for Standardization (ISO) certifications for Quality Management, Information Service Management, Information Security Management, and Risk Management Systems, ISO 9001, 20000-1, 27001, and 31000 respectively.
As Agility Federal continues to improve its service offerings and provide exemplary service to their customers, the awards and accolades are lining up as their success story continues to evolve.
Agility Federal LLC provides Agile Federal Solutions and is certified by the International Organization for Standardization (ISO) in Quality, Information Security, and Risk Management Systems (ISO 9001, ISO 27001, and ISO 31000 respectively). Certified by the U.S. Small Business Administration (SBA) as a Historically Underutilized Business Zone (HUBZone), Woman Owned Small Business (WOSB), and Service Disabled Veteran Owned Small Business (SDVOSB), Agility Federal looks forward to providing the Agile Edge™ of Operational Excellence to our Federal Government customers as well as your Personal and Enterprise Solution needs. https://agilityfederal.com/
The US Department of Labor's Mission is "to foster, promote, and develop the welfare of the wage earners, job seekers, and retirees of the United States; improve working conditions; advance opportunities for profitable employment; and assure work-related benefits and rights." https://www.dol.gov/
"The U.S. Department of Labor's HIRE VETS Platinum Medallion Award, "the only federal-level veterans' employment award which highlights companies committed to the hiring, retaining, and professional development of American veterans."" https://hirevets.gov/
"The Veterans Administration's Primary mission is "To fulfill President Lincoln's promise to care for those who have served in our nation's military and for their families, caregivers, and survivors."" https://department.va.gov/
"The VA's Veterans Health Administration is the largest integrated health care network in the United States, with 1,255 health care facilities serving 9 million enrolled Veterans each year." https://www.va.gov/health/
"The Foundation for Blind Children was founded in 1952 by parents of blind children who wanted services for their blind children in Phoenix, instead of having to send them to the State Institution for the Blind in Tucson. The Foundation for Blind Children serves the blind and visually impaired of all ages, from birth to currently 103 years old. As the only agency of its kind in Arizona, the Foundation for Blind Children is an essential resource to families and children with blindness or low vision. With three Valley locations (East Valley, Westand Central Phoenix), we strive to serve as "the" community's resource for blind, visually impaired, and multi-handicapped children, adults, and their families." https://seeitourway.org/
"Cybersecurity is a top priority for the Department of Defense. The Defense Industrial Base (DIB) is the target of more frequent and complex cyberattacks. To protect American ingenuity and national security information, the DoD developed the Cybersecurity Maturity Model Certification (CMMC) 2.0 program to reinforce the importance of DIB cybersecurity for safeguarding the information that supports and enables our warfighters." https://dodcio.defense.gov/
"The Federal Risk and Authorization Management Program (FedRAMP®) provides a standardized approach to security authorizations for Cloud Service Offerings." https://www.fedramp.gov/
"ISO (International Organization for Standardization) is an independent, non-governmental international organization with a membership of 169 national standards bodies. Through its members, it brings together experts to share knowledge and develop voluntary, consensus-based, market relevant International Standards that support innovation and provide solutions to global challenges." https://www.iso.org/
Brandon Fausti
Agility Federal LLC
+1 510-990-2282
email us here
Article originally published on www.einpresswire.com as Agility Federal LLC Awarded US Department of Labor HIRE VETS Platinum Award