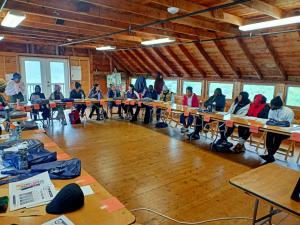 #UPGSustainability Leaders in Classroom Action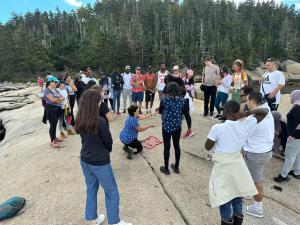 #UPGSustainability Leaders during a Team Building Activity!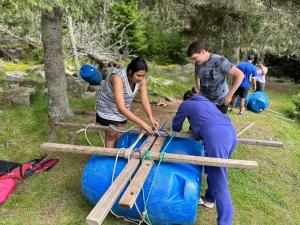 #UPGSustainability Leaders participating in Team Building activity
#UPGSustainability Leaders in a Cultural Exchange session
#UPGSustainability Leaders engaging in maritime activities
28 #UPGSustainability Leaders from 21 countries prepare to share their work with a global audience
Everything about you brings hope to us all, because you are the new and beautiful representation of the world in its entirety"
— Rosamund Zander
GENEVA, SWITZERLAND, August 18, 2023/EINPresswire.com/ — Today 28 passionate and driven #UPGSustainability Leaders are completing a week-long immersive training at Hurricane Island Centre for Science and Leadership as part of #UPGSustainability Leadership. Equipped with knowledge, camaraderie, and an unwavering commitment to sustainable change, these leaders are stepping out of their training cocoon, ready to tackle the challenges ahead and make a positive impact on their communities and the planet at large. And among the highlights as they conclude their pilgrimage, they are preparing to connect with the world and to share their work in a special session.
UPG Sustainability Leadership is a movement that mobilises individuals and organisations to support positive citizen leadership on sustainability. This movement is also home to the world's largest training program dedicated to sustainability leadership.
On Friday, 18 August, the 28 Leaders currently on Hurricane Island will connect with the world and share insights on their specific projects. It is possible to attend this event by reserving a place with this link: https://upglive.org/upgsl-events-rsvp. The event goes live from 4:30pm to 6:30pm CEST / 10:30 am- 12:30pm EST.
The #UPGSustainability pilgrimage to Hurricane Island stands as a holistic experience, offering a diverse range of activities that revolve around climate action, economic growth, quality education, gender equality, environment, health, peace, and justice – touching upon the 17 Sustainable Development Goals outlined by the United Nations. The intensive training, which took place against the stunning backdrop of Hurricane Island's natural beauty, proved to be an exceptional journey of self-discovery, learning, and empowerment. Over the course of the week, the #UPGSustainability leaders explored subjects spanning collaboration and delegation while also sharing moments of joy, engaging in idea-inspiring discussions, and participating in activities that broadened their outlook on sustainability.
The #UPGSustainability pilgrimage to Hurricane Island is not just a journey; it's an endeavour to amplify reflection, learning, and personal growth. As these leaders return to their respective communities, they do so with strengthened resolve, promising positive ripple effects for both society and the planet. This exceptional experience is fully funded, ensuring that the most promising and motivated young leaders can participate without financial constraints. Rosamund Zander, Founding and Flagship Partner of UPG Sustainability Leadership, affirms, "Everything about you brings hope to us all, because you are the new and beautiful representation of the world in its entirety."
On 13 August, 2023, a group of twenty-eight enthusiastic leaders embarked on this enlightening journey. The young group of sustainability leaders include 17 women and 11 men from various countries including: Albania, Bhutan, Brazil, Cameroon, Canada, China, Colombia, Egypt, Ghana, India, Indonesia, Iraq, Maldives, Morocco, Nigeria, Peru, Tanzania, Uganda, USA and Uzbekistan. Their experiences included classes on sustainable community building and the island's history intertwined with team-building games, including a spirited treasure hunt and invigorating basketball matches. It also included leaders sharing their projects' impacts within their communities, alongside lessons on team dynamics and stakeholder engagement. Early in the week, they also enjoyed an engaging session on crafting sustainable rafts for fishing and rowing – a testament to their newfound skills and creativity. Other activities included: discussions on project advancement, informative lessons from expert instructors, local fishing, class on ecosystems and their interconnectedness with sustainability and more. The event on Friday showcases the leaders' impactful projects, and will be followed by a final class, culminating the week's activities in a celebratory bonfire night.
Yemi Babington-Ashaye, President at United People Global, expressed, "When young people dream about making their communities better, it is important that we respond with words and actions that mean the same thing: yes you can." Join us in celebrating these remarkable change-makers. RSVP for the #JourneyToHurricane Event to meet the leaders and discover their outstanding projects- https://upglive.org/upgsl-events-rsvp
With steadfast support from dedicated partners, the movement proudly announces that since its inception in 2019, it has trained an impressive cohort of 1150 UPG Sustainability Leaders across three intensive 9-week training sessions. Remarkably, over 120 of these leaders have been granted a unique opportunity for an additional weeklong immersive training on Hurricane Island, USA. Further insights into UPG Sustainability Leadership can be found at https://upglive.org/UPGSustainability.
About United People Global: UPG is a community that encourages and enables people to make the world better place. UPG believes that all people have the power and the responsibility to participate in making the world a better place. The work of this global community is facilitated by United People Global Foundation, an independent not-for-profit organisation based in Geneva, Switzerland. UPG is not a political or religious organisation.
Note to Editors

1. Learn about #UPGSustainability Leadership: https://upglive.org/UPGSustainability

2. Social Media Hashtags: #UPGSustainability and #JourneyToHurricane

3. Watch an introduction to #UPGSustainability: https://upglive.org/upgsustainability-introvideo

4. To partner or collaborate with UPG Sustainability Leadership: https://upglive.org/letsconnect

5. More about United People Global https://unitedpeople.global/about-us

6. Join UPG: https://unitedpeople.global/join

7. Join UPG's Media Community: https://unitedpeople.global/nominations/journalists-nomination

8. Follow UPG on most social media: @unitedpeopleglobal or on Twitter: @unitedpeople36
Dixita Mahanta
United People Global
email us here
Visit us on social media:
Facebook
Twitter
LinkedIn
Instagram
YouTube
Other
Meet 28 Leaders on the #UPGSustainability Pilgrimage to Hurricane Island


Article originally published on www.einpresswire.com as #UPGSustainability Leaders Connect with the World from Hurricane Island (USA)