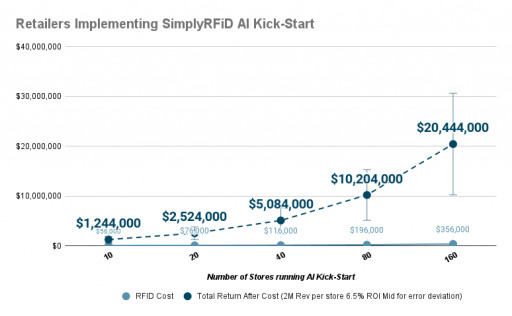 AI Kick-Start (AIK) is a technology service from SimplyRFiD that helps businesses transform their inventory processes from slow, 70% accurate barcodes to instant 99% accurate RFID. The new service guides retailers through the complexities of implementing new business processes and technology. Beyond transformation, AIK expects to deliver a 4%-11% bottom-line revenue increase.
SimplyRFiD Inventory ROI
Implementing SimplyRFiD's RFID processes for inventory control returns 30x-100x the investment.
DALLAS, March 16, 2023 (Newswire.com) - Moving a business from 70% to 99% accurate inventory is magic. To have magic, you need a magician and that's why SimplyRFiD created AI (accurate inventory) Kick-Start. AI Kick-Start is a yearly technology service to transform companies from barcodes to RFID and develop the internal processes to run an accurate inventory system.
"We've been making RFID system technology for 20 years. Our goal has been to bring a great value at a packaged, affordable price," said Carl Brown, President of Simply RFiD. "Years of development led to Wave, an entire 'inventory system in your hand' for < $3,000. I thought it was the answer. However, it's only one part of what a company must go through to change."
AI Kick-Start is a four step technology program that systematically evolves retailers into coping with this level of accuracy.
SimplyRFiD Accurate Inventory Kick-Start (AIK) -- expert led, systemic transformation
AIK is led by a senior member of SimplyRFiD in inventory process transformation. Each step has a technology component and a human-leader component to keep the transformation moving.
RFID Tagging - AIK's online portal manages UPC lists and enables retail suppliers to produce products pre-tagged with RFID. SimplyRFiD's AIK leader guides suppliers through tagging at best-cost / minimal cost. Retailers gain benefit and suppliers don't struggle with how-to or can-not. Weekly management reporting shows compliance, accuracy, and progress.
Inventory Control - Weekly training with the retail team for best practices in receiving, shipping, and inventories. Online certification allows team members to be AI RFID-certified making sure retailers are benefiting from accuracy.
Data Exchange - Training, reconciliation certification, and data exchange guidance.
Inventory Strategy - Beyond operating RFID, best practices training for retail leaders to optimize accurate inventory in omni-channel.
Accuracy for accuracy's sake?
RFID enables weekly inventory processes and an accurate inventory reconciliation. Case studies of SimplyRFiD Wave RFID installations and business processes show 4%-11% additional bottom-line revenue per store implementing the SimplyRFiD AI Kick-Start process.
Additional revenues are created from top line growth with omni-channel sales increases and bottom line increases from reduced diversion and internal business process optimization. From an ROI (Return on Investment) perspective this translates into $80,000 to $220,000 on a $2,000 per year RFID technology investment, per store.
Availability
SimplyRFiD's Accurate Inventory Kick-Start is currently available to retailers with 10+ physical locations in the USA, or 100+ locations worldwide. Please contact [email protected] for more information.
About SimplyRFID
SimplyRFID makes Wave for iOS, the #1 app for counting retail inventory with RFID.
https://www.SimplyRFiD.com | Media Room
Contact Information:
William Montalbo
Vice President, Marketing
[email protected]
+1 703.343.1689
Syd Brown
Social Media Manager
[email protected]
+1 703.343.1689
Original Source:
SimplyRFiD Launches 'AI Kick-Start' to Transform Retail Inventory Accuracy From 70% to 99% With RFID