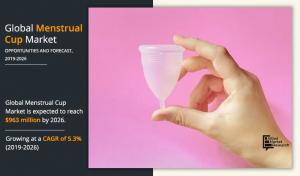 $963+ Million, Menstrual Cup Market by 2026, North America held lion's share more than half of the revenue, due to rise in the number of women population
PORTLAND, OREGON, UNITED STATES, November 7, 2023 /EINPresswire.com/ — Allied Market Research has released an insightful report entitled "Global Menstrual Cup Market: A Comprehensive Analysis (2023–2026)", which delves into the various facets of this burgeoning industry. This comprehensive study dissects the Menstrual Cup market by product type, including disposable and reusable variants, the material used, which ranges from medical grade silicone to natural rubber and thermoplastic elastomer, as well as the distribution channels encompassing online stores and pharmacies & retail stores.
The report reveals that in 2018, the global menstrual cup market was valued at $632 million and anticipates a robust growth trajectory with an expected market value of $963 million by the year 2026. This exponential rise is projected to manifest a Compound Annual Growth Rate (CAGR) of 5.3% from 2019 to 2026.
This in-depth analysis provides a valuable resource for businesses, investors, and industry stakeholders, allowing them to make informed decisions and harness the immense potential of the menstrual cup market, contributing to the betterment of women's health and environmental sustainability.
𝐃𝐨𝐰𝐧𝐥𝐨𝐚𝐝 𝐒𝐚𝐦𝐩𝐥𝐞 𝐑𝐞𝐩𝐨𝐫𝐭 𝐚𝐭: https://www.alliedmarketresearch.com/request-sample/5388
𝐌𝐚𝐣𝐨𝐫 𝐦𝐚𝐫𝐤𝐞𝐭 𝐩𝐥𝐚𝐲𝐞𝐫𝐬
• Blossom Cup
• Fleurcup
• Diva International Inc.
• Jaguara
• Intimina
• Lena Cup, Lune Group Oy Ltd.
• Me Luna GmbH
• Mooncup Ltd.
• Sterne (Si-Line)
• Saalt, LLC
• Yuuki Company s.r.o.
• The Flex Company
𝐓𝐡𝐞 𝐠𝐫𝐨𝐰𝐭𝐡 𝐨𝐟 𝐭𝐡𝐞 𝐠𝐥𝐨𝐛𝐚𝐥 𝐦𝐞𝐧𝐬𝐭𝐫𝐮𝐚𝐥 𝐜𝐮𝐩 𝐦𝐚𝐫𝐤𝐞𝐭 𝐢𝐬 𝐢𝐧𝐟𝐥𝐮𝐞𝐧𝐜𝐞𝐝 𝐛𝐲 𝐬𝐞𝐯𝐞𝐫𝐚𝐥 𝐤𝐞𝐲 𝐝𝐞𝐭𝐞𝐫𝐦𝐢𝐧𝐚𝐧𝐭𝐬:
1. Increased Awareness: Growing awareness among women about the range of feminine hygiene products available in the market has been a significant driver. Consumers are becoming more informed about the advantages of menstrual cups over traditional sanitary pads and tampons, leading to increased adoption.
2. Advantages Over Traditional Products: Menstrual cups offer numerous benefits, including environmental friendliness, cost-effectiveness, and longer-lasting protection. These advantages have contributed to the rising popularity of menstrual cups as a preferred choice for many women.
3. Variety in Cup Types and Sizes: The availability of a diverse range of menstrual cups in different sizes and materials has provided consumers with more choices to suit their individual preferences and needs, further driving market growth.
However, there are challenges to be addressed:
1. Cultural Resistance and Limited Acceptance: Cultural and societal factors can impede the adoption of menstrual cups in some regions, as there may be resistance or limited acceptance of such products due to traditional practices or taboos.
2. Availability of Substitutes: The availability of alternative feminine hygiene products, such as sanitary pads and tampons, remains a barrier to market growth, as some consumers may be hesitant to switch to menstrual cups.
3. Cost Considerations: The initial cost of purchasing a menstrual cup may deter some potential users, as it requires an upfront investment. This cost factor can hinder market expansion.
On the positive side, there are opportunities:
1. Untapped Markets in Developing Countries: Developing countries represent a largely untapped market for menstrual cups. As awareness and acceptance grow in these regions, there is significant potential for market players to expand their presence and tap into this emerging customer base.
𝑪𝑶𝑽𝑰𝑫-19 𝒔𝒄𝒆𝒏𝒂𝒓𝒊𝒐: 𝑻𝒉𝒆 𝒐𝒖𝒕𝒃𝒓𝒆𝒂𝒌 𝒐𝒇 𝑪𝑶𝑽𝑰𝑫-19 𝒉𝒂𝒔 𝒈𝒓𝒆𝒂𝒕𝒍𝒚 𝒂𝒇𝒇𝒆𝒄𝒕𝒆𝒅 𝒕𝒉𝒆 𝒈𝒍𝒐𝒃𝒂𝒍 𝒎𝒆𝒏𝒔𝒕𝒓𝒖𝒂𝒍 𝒄𝒖𝒑 𝒎𝒂𝒓𝒌𝒆𝒕.
The outbreak of COVID-19 has had a notable impact on the global menstrual cup market. While there is no evidence that COVID-19 can be transmitted through menstrual blood, the pandemic has led to significant changes in women's menstruation management practices, resulting in increased demand for menstrual cups.
One of the key factors driving this increased demand is the washable nature of menstrual cups. This feature has become particularly attractive during the pandemic, as it reduces the need for frequent visits to medical shops or stores, promoting a more convenient and hygienic menstrual hygiene solution.
In terms of material, the medical-grade silicone segment dominated the market in 2018, accounting for approximately three-fourths of the global menstrual cup market. This dominance can be attributed to the growing demand for safe, durable, and non-allergenic products, which are essential considerations in feminine hygiene.
However, the thermoplastic elastomer segment is expected to experience the highest Compound Annual Growth Rate (CAGR) of 6.3% during the forecast period. The increased demand for thermoplastic elastomer as a material for menstrual cups reflects evolving consumer preferences and the desire for alternatives in the market.
Regarding distribution channels, the pharmacy/retail stores segment is projected to exhibit the highest CAGR of 5.5% during the forecast period. This growth is driven by rising awareness among the female population about the advantages of eco-friendly, cost-effective, allergy-free, and durable menstrual care products. These factors are encouraging women to choose pharmacy/retail stores as their preferred shopping destination.
Conversely, in 2018, the online store segment held the largest share, contributing to nearly two-thirds of the global menstrual cup market. This can be attributed to the convenience of online shopping, which offers 24/7 access, a wide range of product choices, and the ability to compare prices, making it a preferred option for many consumers.
𝐅𝐨𝐫 𝐏𝐮𝐫𝐜𝐡𝐚𝐬𝐞 𝐄𝐧𝐪𝐮𝐢𝐫𝐲 𝐚𝐭: https://www.alliedmarketresearch.com/purchase-enquiry/5388
𝐍𝐨𝐫𝐭𝐡 𝐀𝐦𝐞𝐫𝐢𝐜𝐚 𝐡𝐞𝐥𝐝 𝐥𝐢𝐨𝐧'𝐬 𝐬𝐡𝐚𝐫𝐞
The North American region played a significant role in the global menstrual cup market, holding the largest share in 2018 by contributing to over half of the market's revenue. This dominance can be attributed to multiple factors, including the increase in the female population and a growing demand for environmentally-friendly feminine hygiene products. North America's embrace of menstrual cups as a sustainable and effective solution has contributed to its leadership in this market.
However, it's worth noting that the market across the LAMEA (Latin America, Middle East, and Africa) region is expected to exhibit the highest Compound Annual Growth Rate (CAGR) of 7.5% during the forecast period. This exceptional growth is primarily driven by awareness campaigns aimed at educating the population about the advantages of using menstrual cups. Additionally, the LAMEA region is experiencing an increase in the number of working women, further boosting the demand for menstrual cups as a reliable and eco-friendly feminine hygiene option.
As a result, the LAMEA region is poised to become a significant growth area for the menstrual cup market, thanks to a combination of increasing awareness and the changing demographic landscape in the region.
𝐕𝐀𝐋𝐔𝐄 𝐏𝐑𝐎𝐏𝐎𝐒𝐈𝐓𝐈𝐎𝐍𝐒 𝐑𝐄𝐋𝐀𝐓𝐄𝐃 𝐓𝐎 𝐓𝐇𝐄 𝐑𝐄𝐏𝐎𝐑𝐓:
Powered with Complimentary Analyst Hours and Expert Interviews with Each Report
Comprehensive quantitative and qualitative insights at segment and sub-segment level
Covid 19 impact trends and perspective
Granular insights at global/regional/country level
Deep-rooted insights on market dynamics (drivers, restraints, opportunities) and business environment
Blanket coverage on competitive landscape
Winning imperatives
Exhaustive coverage on 'Strategic Developments' registered by leading players of the market
𝐅𝐨𝐫 𝐏𝐮𝐫𝐜𝐡𝐚𝐬𝐞 𝐄𝐧𝐪𝐮𝐢𝐫𝐲 𝐚𝐭: https://www.alliedmarketresearch.com/purchase-enquiry/5388
David Correa
Allied Analytics LLP
+ +1 800-792-5285
email us here
Visit us on social media:
Facebook
Twitter
LinkedIn


Article originally published on www.einpresswire.com as Menstrual Cup Market is set to reach $963+ Mn, North America held lion's share more than half of the revenue