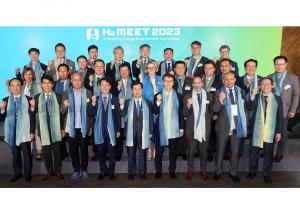 – 303 companies and government agencies from 18 countries participate in hydrogen production, storage and distribution, and utilization categories.
To establish the global exchange and cooperation platform for developing and accelerating the hydrogen industry, we will support "H2 MEET" as much as possible."
— Kang Nam-hoon, Chairman of the H2 MEET Organizing Committee
GOYANG, GYEONGGI, REPUBLIC OF KOREA, September 21, 2023 /EINPresswire.com/ — The global hydrogen technology industry platform, H2 MEET 2023, officially opened on September 13th at KINTEX 1 in Goyang City, Gyeonggi Province.
Hosted by the H2 MEET Organizing Committee, chaired by Kang Nam-hoon, who also serves as the President of the Korea Automobile Manufacturers Association, and sponsored by the Ministry of Trade, Industry and Energy, the Ministry of Environment, the Ministry of Land, Infrastructure and Transport, the Ministry of Science and ICT, and the Goyang Convention & Visitor Bureau (CVB), the event ran for three days until September 15th.
H2 MEET, now in its fourth edition, has seen a 26% increase in scale compared to the previous year, with 303 companies and organizations from 18 countries participating in the event's three sections: Hydrogen Production, Hydrogen Storage and Distribution, and Hydrogen Utilization.
The opening ceremony was attended by Chairman Kang Nam-hoon of the H2 MEET Organizing Committee, Kang Kyung-sung, Second Vice Minister of the Ministry of Trade, Industry and Energy, Hah Tae-keung, Member of the National Assembly's Hydrogen Economy Forum, Lee Won-wook, Co-Representative of the National Assembly's Mobility Forum, Lee Yong-woo, a member of the National Assembly representing Jung (4th) District of Goyang City, and representatives and officials from participating companies.
Chairman Kang Nam-hoon said in his opening remarks, "While major countries are actively fostering the hydrogen industry through various support policies, Korea also announced its hydrogen industry development policy in November last year and expressed its intention to foster our hydrogen industry as the world's best. Major Korean companies such as Hyundai Motor Group, POSCO Group, and Hanwha Group have continued investing in this situation."
He added, "This year's H2 MEET is attended by 303 companies from 18 countries, showing global interest in hydrogen. In particular, this exhibition will provide the latest technological trends in the entire hydrogen ecosystem and offer a glimpse of a society transitioning to an environmentally friendly paradigm. The organizing committee will cultivate this event into a platform for global exchange and cooperation, which can contribute to the development and leap of the hydrogen industry."
Kang Kyung-sung, Second Vice Minister of the Ministry of Trade, Industry and Energy, said in his congratulatory speech, "Hydrogen can contribute to increasing resilience against future crises and securing energy security. Therefore, more countries are accelerating policies for carbon neutrality and a hydrogen economy." He also promised that the Korean government would spare no effort to support the development of the hydrogen industry and create a balanced ecosystem for the entire hydrogen cycle, from production to distribution and utilization.
In his congratulatory speech, Ha Tae-keung, a member of the National Assembly, said, "The whole world is paying attention to the value of hydrogen as a mediator for achieving carbon neutrality. The government needs a concrete roadmap to build a robust hydrogen industry ecosystem. I hope this event will help us to leap forward to become the world's leading hydrogen nation."
Lee Won-wook, a member of the National Assembly, said in his speech, "There is still much to be done to realize a competitive hydrogen industry ecosystem, including legal and institutional improvements and active support for specialized hydrogen companies. I look forward to H2 MEET, which will play an active role as a global platform for the hydrogen industry, and the National Assembly will not spare any policy support for the development of the hydrogen industry and hydrogen mobility industry."
Lee Yong-woo, a member of the National Assembly, said, "Korea is making continuous efforts to enter a full-fledged hydrogen economy. Already, it has achieved visible results in hydrogen utilization and other areas. When the third exhibition hall of KINTEX is completed in 2026, Goyang City is expected to grow as a hub for the Asian MICE industry. I hope H2 MEET will grow as a representative exhibition of this."
"H2 MEET (Mobility+Energy+Environment+Technology)" is a specialized hydrogen industry exhibition that targets domestic and international companies and organizations in hydrogen production, storage and transportation, and hydrogen utilization. H2 MEET Organizing Committee organizes the event with sponsors from Chevron, TUV Rheinland, BP, Korea Hydro & Nuclear Power, FORBIA, and the Korea Conformity Laboratories. At the same time, the "K-BATTERY SHOW 2023," focusing on secondary battery materials, components, and equipment, was also held concurrently.
Davis Kim
AVING News
+82 28563276
[email protected]
Visit us on social media:
Facebook
LinkedIn
YouTube
Article originally published on www.einpresswire.com as H2 MEET 2023 Begins on the 13th at KINTEX to Accelerate Carbon Neutrality and Open New Business Opportunities