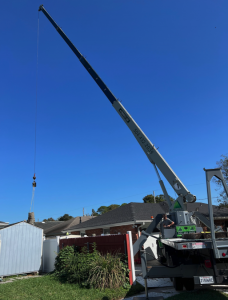 Discover A Perfect Cut tree service in New Orleans with licensed arborists on every job site – specializing in tree removal, trimming & more.
NEW ORLEANS, LOUISIANA, USA, May 3, 2023/EINPresswire.com/ — For the past seventeen years, Roger Mattei has been running A Perfect Cut LLC, a tree service based in the heart of New Orleans. One of the many benefits of hiring A Perfect Cut LLC is their licensed arborist on every job site. This licensed arborist ensures quality control, making on-site decisions on a variety of issues regarding tree health and hazards present on the spot.
Comprehensive arboriculture ranges from hazardous tree mitigation to aesthetic pruning – making A Perfect Cut LLC a dependable tree service for all occasions.
Mattei has made the investment to have a certified arborist on-call for his team — "our knowledge base is expansive and our experience is second to none," Mattei stated. In addition to their New Orleans based service, A Perfect Cut LLC now also offers services in Jefferson parish with more to come.
There are several reasons why hiring a company with a Licensed Arborist is integral to caring for your trees:
– They will always ask the right questions when assessing your tree area

– They are passionate about their work and preventative tree care practices

– They can make accurate diagnoses of any potential tree health issues

– They always find the most economical and functional solution that's best for the safety of your trees

-They can provide complete services geared towards the species, age and condition of your tree
For further information on services, visit A Perfect Cut LLC's website at www.aperfectcuttree.com or give them a call at (504) 432-2039.

—-

PresswireToday.com (https://www.presswiretoday.com) is the ultimate tool for businesses looking to make an impact in their local market. Whether you're a small business owner or a large corporation, Presswire Today targeted press releases can help you establish your brand, generate leads, and achieve your marketing goals.
Roger Mattei
A Perfect Cut LLC
+1 504-432-2039
[email protected]


Article originally published on www.einpresswire.com as A Perfect Cut, LLC Does It All in Jefferson Parish and in New Orleans